What our customers have to say
Testimonials
A BIG THANK YOU!
We want to thank everyone for choosing K.A.L.L Bin Services for all your garbage needs! We hope that your experience with us was very pleasurable and satisfying. Here at K.A.L.L Bin Services customer satisfaction is our top priority. We love working with you on all your jobs and projects and we love hearing all the excellent reviews you leave for us.
Please take the time to share your experience and write us a review on Google or our Facebook page.
KALL Bins delivered and picked up the bin promptly. Nice clean bin, reasonable prices. A pleasure to do business with. I would recommend KALL.


When you think Bin service K.A.L.L should be your first to call. Very professional with the service provided. Will be renting again!!


Amazing service , fast, clean and very professional business to work with !! Highly recommend!


KALL bin service is extremely professional, customer focused, and reliable. I have used their service on several occasions and wouldn't hesitate to recommend them. If you are looking for a bin service, this is the one.


Just rented a bin and will be referring them to anyone for their bin rentals and will be going back for all my bin needs. Their costumer service is amazing always very polite, respectful and answered all my questions to their best ability.


Amazing service from this company. Low prices, they showed up very quickly after I requested the bin and even let me keep it for an extra couple days… Thanks for the great service. Would use again.


Rented a bin from this company during Covid, professional service, Bin was dropped off when he said it would be… Actually a half hour early and picked up on time! Friendly, Honest and Reliable company! Thanks!! Literally took a load off of us!!! Will use again!


Lou and Kyle at Kall bin are incredibly professional! We called them with short notice and requested a bin delivery and received a bin the very next day! They are timely, and they are very good with their communication so I knew what was happening every step of the way. The bin was clean and looked very professional. Will definitely use their service again!


Recently used K.A.L.L BIN SERVICES for my business & the service was incredible. Very professional & such an easy process. Thank you for making the experience great for us. Would highly recommend! :).


Thank you to Kall Bins for the speedy delivery of the bin and for taking the time to put boards down on my driveway to protect it from any damages! So glad to hear and see that there were no hidden fees also! Would definitely use them again and recommend them to friends and family.


I have used KALL Bin services multiple times already. Excellent service. Clean bins. Very fast service. Great pricing. Highly recommend.


Very fast services. Deliveries, & Pick ups all occurred within the same hour I called, Very reliable. They have best prices- don't believe me, look around, Their rates are the best.

I have retained the services of Kall Bin Services, on more than one occasion, and the service has been excellent. Lou is very professional, patient and kind. When I need to rent a Disposal Bin, I will always use his services. Thank you for the exceptional quality of service that you have provided.

KALL bin services are hands down the best! Lou was very great to deal with and responds to any questions quickly! Our bin was dropped off exactly where we wanted it and was picked up without any problems, and the driveway was very well protected! When the bill came, I couldn't have been more ecstatic! The price was unbelievably reasonable! I honestly don't have enough words for how great of an experience it was! In the future I will ONLY call KALL bin services!!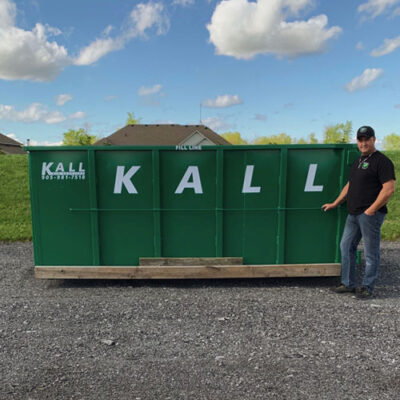 14 YARD BIN
Same Day Delivery
$295
12' Long, 7' Wide, 5'High
Shingles/ Roofing Material
Construction/ Demolition Material
Renovation Material
Household Garbage
Furniture
Yard and Garden Waste
Bin rental is from 1-7 days.
($20.00/ day after the 7th day)
Tipping fee after 1.5 tonnes is
prorated at $90.00/ tonne.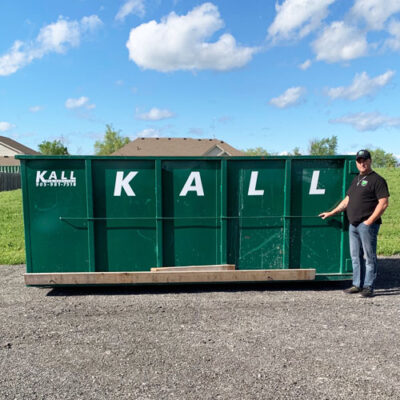 20 YARD BIN
Same Day Delivery
$315
14' Long, 8' Wide, 5' High
Construction/ Demolition Material
Renovation Material
Household Garbage
Appliances
Furniture
Yard and Garden Waste
Bin rental is from 1-7 days.
($20.00/ day after the 7th day)
Tipping fee after 1.5 tonnes is
prorated at $90.00/ tonne.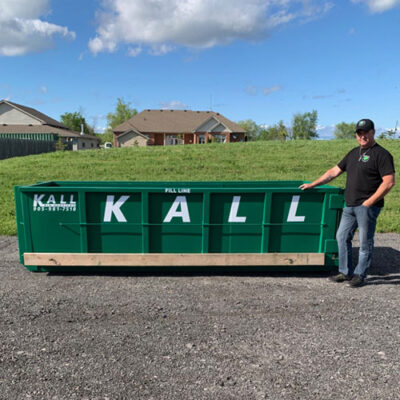 6 YARD BIN
Same Day Delivery
$275
12' Long, 5' Wide, 2.5' High
Clean Fill
Concrete
Rubble
Paving Stones
Dirt
Earth Soil
Bin rental is from 1-5 days.